With a large range of products made to order we believe that we not only offer our customers a great choice but with a team of time served experienced fabricators the quality and attention to detail is second to none.
With more architects and builders designing contemporary properties the demand for aluminium is growing and the benefits of metal over pic is very evident especially in our coastal environment. Although there is a price differential over plastic customers are really liking the versatility and the design characters including the thermal and energy saving properties.
The aim is to provide a quality product at a cost effective rates for Trade clients and we will work with you to make sure that you have the right product in the right profile to meet your and your clients requirements.

All our systems are manufactured to order and due to our size we can be very flexible allowing better than average turnaround times compared to other manufacturers in the sector. We are also local which gives you re assurance that if there was ever a problem we are on hand to provide a solution.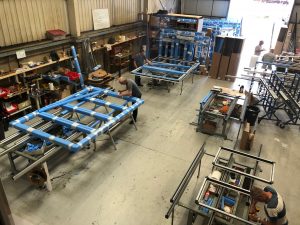 For more information on how we can help you please contact Paul Leveridge our General Manager on 01502 541931 or email [email protected]